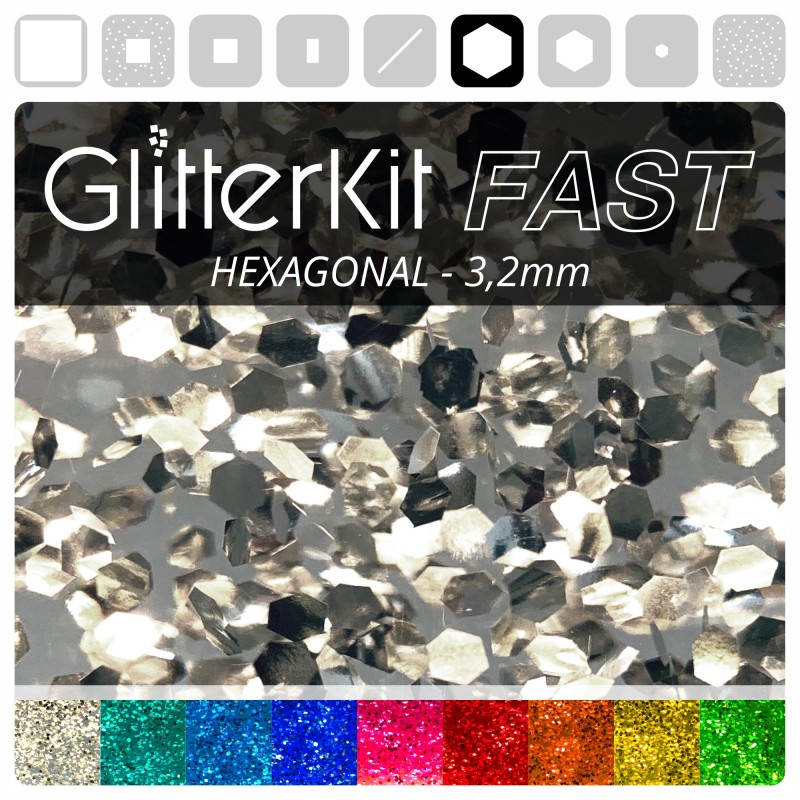  
HEXAGONAL 3,2 GlitterKit Fast
GlitterKit Fast for self filling of bottles.
Complete Kit, includes:
- Glitter, HEXAGONAL - 3,2mm
- Master Fluid
- Cleaning Fluid
Tested goods

Fast delivery
The GlitterKit Fast is best used for DIY self filling of bottles.
It does include everything needed.
There are 9 Masterfluid colors available, which can also be combined with several filter colors (available in the shop).
The filter color has to be applied at the bottom of the bottle.
To properly clean the bottles we recommend: Multiple filling of hot water, Isopropyl alcohol and Hydrochloric acid (also available in the shop).
You can find a Videotutorial on our YouTube Channel.

Compared to our regular GlitterKit the GlitterKit Fast has the following benefits:
- Faster Flow (Video)
- There are different sizes/forms available
- You can mix various types of Glitter from the GlitterKit Fast Series in one bottle
- Works in all bottle shapes
- Very well balanced, the Glitter even floats when turned off
- You can use Bulbs with way less Wattage

The amount of Masterfluid is attuned to the amount of glitter required.
We made a list to help selecting the best fitting Kit for your project:
700 ml Kit - suitable for e.g. Astro Baby / Jet
1500 ml Kit - suitable for e.g. Astro / Fluidium
4500 ml Kit - suitable for e.g. Lunar
6500 ml Kit - suitable for e.g. Lunar (XL Bottle) or Grande
8000 ml Kit - suitable for e.g. Lunar (XXL Bottle)

Content:
- Master Fluid in a Plastic bottle / can
- Cleaning Fluid for the final cleaning, right before filling the bottle with the Masterfluid
- Glitter in a test tube for easy filling



Named trademarks, trade names, manufacturer names and product names are used only to identify and describe the products and are the property of their owners. This is not an original product of the respective manufacturer, but a compatible product from Goolamp.
Data sheet
Includes

Complete Kit: Glitter, Master Fluid, Cleaning Fluid